Flexera has released its newest version of their Setup Authoring Software called "InstallShield". As a matter of fact this will be included in the next major release of  the AdminStudio Suite.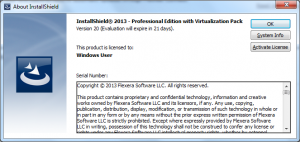 Meanwhile Flexera has published the full change/release notes of InstallShield 2013 here:
Q210472: InstallShield 2013 Release Notes
The most interesting finding so far is that you wont be able to create App-V 5.0 packages if your "building"/"development" machine is not yet running Windows 8 or Windows Server 2012.
What are your thoughts about the new version? Are you satisfied? Let us know in the comments section!
Regards,
Fabio