Neulich bei einem Regsvr32.exe /silent Aufruf einer DLL Datei wurde folgende Fehlermeldung (obwohl der Silent-Paramenter verwendet wurde) ausgegeben:
The module xyz.dll failed to load.
Make sure the binary is stored at the specified path or debug it to check for problems with the binary or dependent .DLL files.
The application has failed to start because its side-by-side configuration is incorrect. Please see the application event log or use the command-line systrace.exe tool for more detail.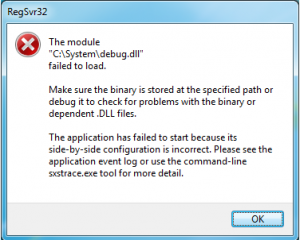 Eigentlich dürfte dieses Fenster nicht erscheinen, da der /silent parameter verwendet wurde.
Man sollte sich auch nicht durch die side-by-side configuration in die Irre führen lassen und einfach den guten alten Dependency Walker verwenden.

Der Depency Walker zeigt die fehlenden Komponenten an, welche vor der Registration auf dem Rechner vorhanden sein müssen.
Es geht auch Stück für Stück mit dem Event-Log, der in einem Error Eintrag die benötigte DLL anzeigt.

Kurz gesagt, neue Meldung, altes Problem